Reference case
Kinnarps
Trend report about the world of work – how we work, learn and meet – for Kinnarps.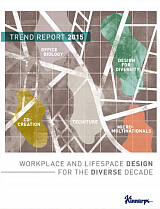 The world of work – how we work, learn and meet – is going through some great changes. That is the background and reason for Kinnarps to collaborate with Kairos Future in writing Kinnarps' Trend Reports 2013 and 2015. In Kinnarps' Trend Report 2013, we aimed at illustrating the changes we see as important for the world of work, and for the future workplace. The report describes eight important shifts in how we work, meet and learn in the future. We are convinced that the future office will be completely different from today's. The most important drivers for these changes are new technology, new values, globalisation, and the shift towards a thought society. We do see that these eight shifts will have great impact on tomorrow's work place.
Kairos Future was commissioned also for the process management and trendspotting for the Kinnarps Trend Report 2015, where we take the insights from the previous report further. This time we focus on Workplace and Lifespace Design for the Diverse Decade, with five important trend areas. See Kinnarps' video here.
As part of this work we held an international workshop in London, see the film from the workshop below.
You can order your copy of the report here.