Reference case
FAR
A thought leadership report on the future of accounting and auditing for the FAR association.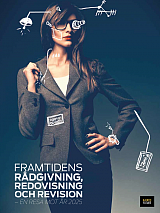 Changed audit obligations, rapid technological change and other factors created a new set of conditions for the industry. To analyse these Kairos Future was asked by FAR, the professional association of accountants, auditors and advisors to conduct a study of the change of industry towards 2025. Through several interviews, workshops and a customer and employee survey about the nature of advising, auditing and accounting, future scenarios and crossroads were developed. The conclusions were presented at industry seminars, in management teams and as a thought leadership report.
The external analysis in the report describes four drivers, seven society trends and eight industry trends and how they are driving the change of industry towards 2025.
"This study is the wake up call the industry needed to face the future in a proactive manner. Now, both small and large agencies are working specifically with futuredriven business development. We at FAR are encouraging this and will be awarding the most successful bureau at the Industry Days", says Dan Brännström, Secretary General of FAR.
FAR is a professional institute for authorized public accountants, approved public accountants with approximately 6500 memebers. Read more about FAR here and about thought leadership analysis here.