Reference case
Husqvarna Group
Global Garden Report for Husqvarna Group.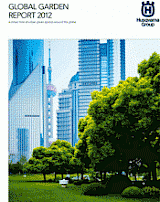 The Global Garden Report of 2012 makes one thing clear: urban green spaces are on the rise. From Tokyo in Japan to Chicago in America and Copenhagen in Denmark, this report shows that major cities around the world are currently in the process of reassessing the importance of urban greenery; not only as means of making the urban environment more livable and better adjusted to environmental demands, but also as way of increasing the global attractiveness of the city in general. Hopefully, this will start to turn a negative trend around.
With this report we have attempted to bring together the current state of knowledge on green spaces, in hopes of reversing their declining status. We have surveyed over 3500 urban dwellers in seven different countries in order to learn more about their views and thoughts on the importance of urban green spaces in their daily life; in addition, we have interviewed experts in the field of urban planning in several countries.
Read the full report here.