Reference case
Danish Centre for Architecture
Green transition for Danish Cities – a scenario project for Danish Centre for Architecture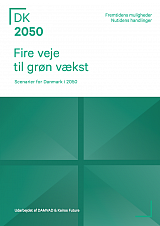 What are the possibilities for Denmark and Danish cities to make a green transition until 2050? Danish Centre for Architecture, DAC, wanted to investigate this issue by launching the DK2050 project. Developing scenarios for 2050 was a fundamental part of this project. Kairos Future was commissioned to lead and facilitate the scenario development in collaboration with Danish consultancy DAMVAD. The process included a number of so called Camps, where hundreds of participants from Danish society participated in trend scanning and input to the scenarios. Together with DAMVAD we analyzed all the data and described the scenarios.
The final scenarios have been used by DAC in different forums, such as the Biennale in Venice 2014. In addition, four architecture firms have thoroughly analyzed the situation for Danish cities in each scenario, describing the green transition, including energy, transportation and daily lives.
Get the report in your inbox by entering your email above. More information can be found here.