Reference case
Skill and competence needs by 2030
When humans face machines in the hotel and restaurant sector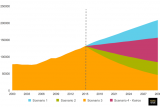 The hospitality sector is one of Sweden's fastest growing industries. Tourism consumption amounted to SEK 317 billion in 2017, an increase of 7 percent compared with the previous year. In a time where fewer work in the manufacturing industry, prosperity is reaching new heights, and food has become an entire nation's favorite interest, the tourism sector is emerging as a new star – the new primary industry. But in order for the industry to grow and develop long-term, the issue of future competence needs is central.
The assignment given to Kairos Future by employer organization Visita and the hotel and restaurant union HRF was to paint a picture of how the industry will look like in 2030 focusing on the number of employees in traditional professions, new types of competencies that may arise, and how industries' training programs need to adapt. With the horizon moved forward 12 years to 2030, automation – robots and algorithms – become especially significant.
Kairos Future estimates that at least 25 percent of traditional work tasks can be automated by 2030, mainly for economic and accessibility reasons. Simultaneously, 60 percent of work tasks will disappear due to automatization, mainly as a result of likely segmentation of the market with both high tech and high touch as well as the industry's structure. This means that the number of employees in traditional roles falls somewhere within the pink area below.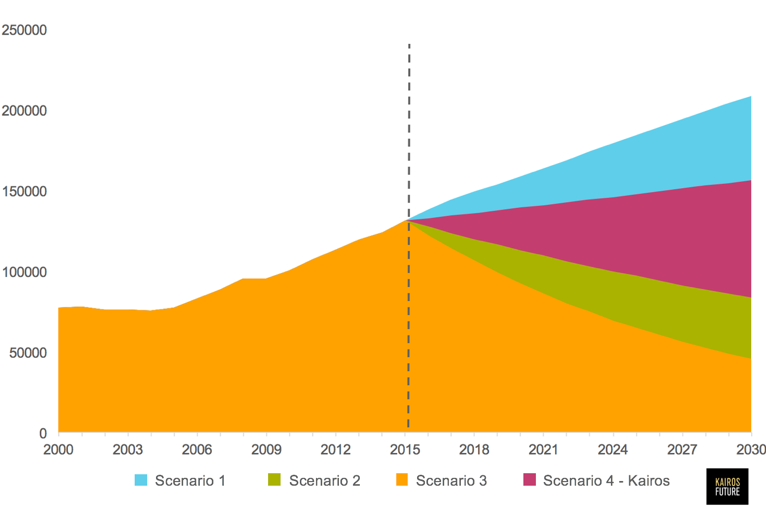 Roles and tasks related to creativity, perception, motor skills, and social skills are difficult to automate and are likely to increase in value. If the sector adapts quickly to the new conditions, many of the traditional jobs are likely to change in order to better match future challenges. Complex tasks like solving unexpected problems, reading and responding to moods and situations, creating new menus, helping and educating guests, and making beds are difficult to automate. While these are likely to still be important roles for people in 2030, the industry as a whole will also need new types of services such as SaaS (Software as a Service) or RaaS (Robot as a Service) delivered by actors outside the hospitality industry. With workplaces where people and machines work together, new demands are placed on both employees and managers, and being able to teach a robot, being able to act as a problem-solver when technology fails, or being able to train the company's AI in new areas of knowledge will become desirable skills in an increasingly automated sector.
The questions we ask are of paramount importance for those of us who represent the labour market's partners. They are also highly relevant for those responsible for education, industry, and labour-market policies both nationally and regionally and for those involved with educational programmes at all levels from upper secondary school to second-cycle courses and study programmes. [...] We hope that this report can provide a basis for stimulating discussions that will hopefully lead to important insights into how the future of the hotel and restaurant sector, and thus the need for education, is likely to be affected by new consumer behaviour, shifts in technology, digitalisation, and automation. In light of predictions of continued positive growth, it would be wise to start planning now for the future.
Malin Ackholt, chairman of HRF, and Jonas Silijhammar, CEO of Visita, in the report's preface. Download the report here.