From Manpowered to AI-powered (Radical Retail part 3/5)
Did you like a nice shirt on Instagram or TikTok but commented that you would prefer it in green? Imagine that your idea is picked up, quickly produced and delivered to you by Postnord's delivery robot Hugo already two days later. Welcome to a world of RADICAL retail.
In the industry and manufacturing sectors we are used to fully automated and robotized plants producing things like cars and refrigerators. Retail is now transforming in the same direction and becoming increasingly RADICAL – Robotized, Automated, Data-driven, Individualized, Crowd-sourced, AI-powered and Lean. Lead times from idea to shipping are radically shortened, and organizations are becoming systems with vague boundaries that optimize their actions in real-time. Smart automation and crowdsourcing are now the core to scale globally and still ensure relevance for individuals and communities.
In the work with Radical Retail Report, a report on retail 2030, produced together with Nexer Group (downloaded here), we identified five shifts that are defining the third retail revolution:
1. Regenerative retail – From Cowboy Economy to Spaceship Economy
2. Phygital experiences – From Transaction Enabler to Experience Provider
3. RADICAL retail – From Manpowered to AI-powered
4. Mytopian retail – From Me in the Marketplace to Me as the Marketplace
5. The Great Data Chaos – From War on Market shares to War on Data shares
This is part 3 of 5 in an article series that outlines the five shifts of the third retail revolution, and presents key take aways for retailers to use in their strategic work towards 2030.
Shift 3: Radical Retail – From Manpowered to AI-powered
Excerpt from Scenario 2030: "Working in retail means something very different today compared to 10 years ago. Most of retailers' operations are robotized and controlled by AIs that optimize the logistics. Purchasing, warehouse management and shipping are completely automated, so only a small core team of humans that oversee the processes is needed. Even innovation is less dependent on internal human creativity: most retailers pick up trends and ideas from their target communities and turn them into products."
Retail is going Real Time – From Idea to Delivery
Thanks to automation and smart optimization, the time from idea to consumption is being radically shortened. The trend of shortened lead times has been around for a while when it comes to warehousing and delivery – quick-commerce businesses has taught us to expect deliveries of desired goods within an hour. Pioneers such as Gopuff, Buyk, Getir, Gorillas and Kavall are new fulfillment players that raise the bar towards ultra-fast deliveries.
Robotized warehouses and dark stores (or fulfillment centers) that move the aggregation of products closer to the customers are other innovations that drive this development. Ocado is a company in the forefront of this trend, offering fulfillment centers that encompass everything from AI-powered demand forecasting to bot operated picking. After the products leave the warehouse, autonomous vehicles are rapidly changing how they are transported to customers. An example is Postnord's delivery robot Hugo that has started to roam the streets of a neighborhood in Stockholm. All these developments are increasingly making it possible for consumers to get what they desire in a click and a few minutes.
The next step in this real-time-retail-revolution is to shorten the time to market for new products. Fast-fashion company SHEIN has presented a model where products can go from idea to delivery to consumers' homes within days. The company uses AI to scrape social media and turn successful content into product prototypes that can be test-sold on their website (about 9000 new products per day!). Prototypes that sell well are rapidly manufactured in bigger batches. This way of going about product development is both super-fast and ensures that products are pre-marketed. This means that the lead time for the whole process from idea to shipping is approaching zero. "Data will cut middle hands. Look at SHEIN, they are literally connecting consumer and producer. They are producing prototypes of lots of models and then the signals of what is selling is transmitted directly to producers." Gustaf Öhrn, CEO, Chairman and board member
The Learning Race
The new speed in producing and delivering the right products to the right customers requires an approach that builds on continuous learning and adaptation, since demand is changing fast. Rather than a search for the one ultimate solution, retailers are focusing on continuous optimization. Take pricing: in contrast to trying to find the optimal price, today's successful retailers focus on building the best pricing engines that continuously optimize prices for the current market circumstances. Focus has shifted from finding the best solution to designing the best processes and algorithms for learning."The value does not reside in what you have, but in your capacity to change." Daniel Mühlbach, CEO, Footway Group
This approach entails a lot more rapid prototyping than planning far ahead: "Retailers have to stop thinking so much. They have to start testing!" (Anders Martinsson, Corporate Enterprise Architect, ICA Gruppen).
Sophisticated Proactivity
Towards 2030, the focus on learning will increasingly extend towards proactively predicting demand. The predictions will be used to produce appropriate volumes and distribute inventory to the right geographical areas. Resource efficiency will be key here, and retailers will need to listen to markets enough to make their predictions and production closer to a "pull" than a "push" logic. Experimenting in virtual environments or metaverses to identify successful products can become one useful tool, since a digital product often requires less effort to produce than a physical one.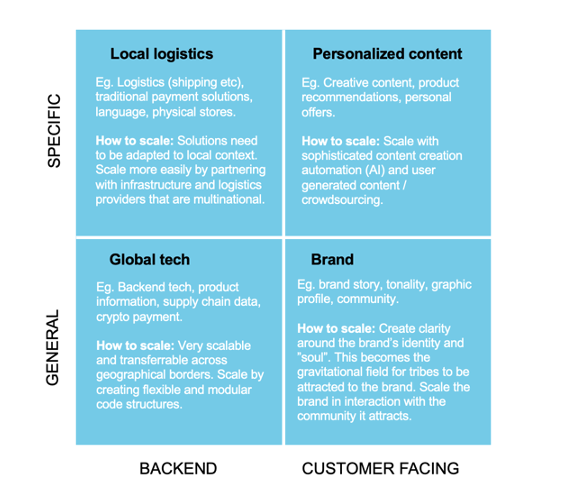 Four dimensions of the radical retail company and how to scale them.
Scaling Phygital Retail Logic – A Multiperspective Challenge
Scaling these RADICAL retail businesses with phygital presence requires holding of several dimensions and perspectives[SP1] . The Internet decouples the geographical and the social, making tribes global. However, many governance structures are still geographically local. This means that today's brands often have followerships of global tribes but still need to adapt their logistics to geographically local circumstances. The illustration above offers a way to make sense of this complexity and suggests approaches for how to go about the scaling of different aspects of RADICAL phygital retailing.
"Technologies like Composable, Headless, Serverless, and API First are the keys to creating a flexible digital architecture." Niclas Heurlin (Founder and CEO at Storm Commerce).
Scaling Hyper Personalization with Automation
With the help of data-based insights, supply chains can be optimized, demand can be predicted, and products and buyers can be more accurately matched. Our Advisory Board experts agree that there is great potential in using data more than today to save resources. In extension, even more value can be obtained by sharing data between actors: "We have to start sharing data to improve value flows from a resource efficiency perspective" says Linda Pimmeshofer, Industry Advisor, Retail, Microsoft. Daniel Mülbach, CEO at Footway Group agrees – part of Footway's mission is to reduce waste in retail by openly sharing the insights from their platform to their suppliers, so that the brands can develop products that matches consumers' desires better. Karolin Forsling, CEO, Forsling United confirms the perspective: "Retailers need to stop being so protective. They have to start opening up and inviting collaborations in business development, and also daring to be transparent and share data, because when we share data, we can more effectively share competence."
Defining Transitions for Radical Retail
| | | |
| --- | --- | --- |
| | | |
| Theme | From | To |
| Supply chain activity | Reactive | Proactive, predictive |
| Operation | Physical world | Digital twin |
| Origin of disruptive innovations | Inhouse creativity | Crowdsourced creativity |
| Warehouse and store operators | Humans | Robots |
| Delivery | Store or slow home delivery | Whenever, wherever, now |
| Optimization strategy | Find the optimal solution | Find the optimal algorithm that do real-time dynamic optimization |
| Shipping | Human driven vehicles | Autonomous vehicles |
| Supply chain optimization | By humans | By AI:s |
| Development | Planned, linear | Rapid prototyping, A/B-testing |
Key Takeaways towards 2030
AI will replace human analyses when it comes to optimizing logistics and other supply chain aspects. How prepared are you for that change?
Autonomous, or remotely driven, vehicles will become normalized for deliveries. Have you started to explore the opportunities for autonomous deliveries?
Retailers will increasingly manage their operations through digital twins. Do you have the systems in place to visualize your operations in a way that provides actionable insights?
To manage increased complexity, retailers need to identify the crucial indicators that create useful and comprehensive performance overviews and quickly reveal anomalies. Do you have a "war room" equipped to steer your RADICAL business?
Content will increasingly be AI-generated, do you have a strategy for how to automate your content creation?
"The crowd" will become increasingly involved in all steps in the value creation process (eg idea sourcing, 3D printing, marketing, distribution). How will you become the master of crowd activation?
The next article, 4 of 5 in this series, describes the shift towards Mytopian retail – a future of retail characterized by decentralization, consumer involvement and importance of social and cultural capital.
By Åsa Jonsson