The new trinity of innovation
For years, innovation has been the top priority among many companies. No wonder considering that the rate of change is increasing in most industries and that business executives estimate the average lifespan of existing business models to be no more than 4 years.
Despite this, few companies have truly succeeded with the art of developing innovative solutions or seriously increasing the innovation rate through existing departments, products, and processes.
Based on my own experience from several decades working as a researcher and consultant in the field, I believe corporate leadership must embrace a new paradigm in innovation. In short, it is about understanding a completely new business landscape as well as the driving factor behind innovation within this new environment.
The Pursuit of Zero
When we examine seven of the world's eight highest valued corporations today – I am referring to Apple, Amazon, Alphabet/Google, Microsoft, Tencent, Facebook, and Alibaba – they all have one thing in common that sticks out: They are all data driven platform companies.
This means that they are browsing on the 21stcentury's thought and data/AI driven business logic where thinking is the new production, data and information is the new raw materials, business concepts is the new services, and cooperation and co-creation are more important than ever within the ecosystem they are a part of.
They have all, in different ways, realized the logic of "one plus one is more than two", that the development-curve is exponential, and that marginal cost, as a result, often moves towards zero. They have realized that growth requires more than developing what one already has, that it requires creative leaps – and that these leaps must be taken in the right direction.
In order to succeed in this new landscape it is necessary to re-think innovation. It's no longer good enough to rely on random discoveries of brilliant ideas during the process and believe that the invisible hand of business will transform these ideas into pioneering innovations. Nor is it enough to conduct brainstorming sessions where employees are asked to hatch new, smart ideas on the spot. We must strengthen this process of spontaneous innovation by establishing systems that ensure that the ideas we conceive today are answers to tomorrow's questions and not just today's, that we capture all relevant perspectives, and that we work systematically over time.
This requires a new innovation process based on the new trinity of innovation: foresight, data, and collaboration.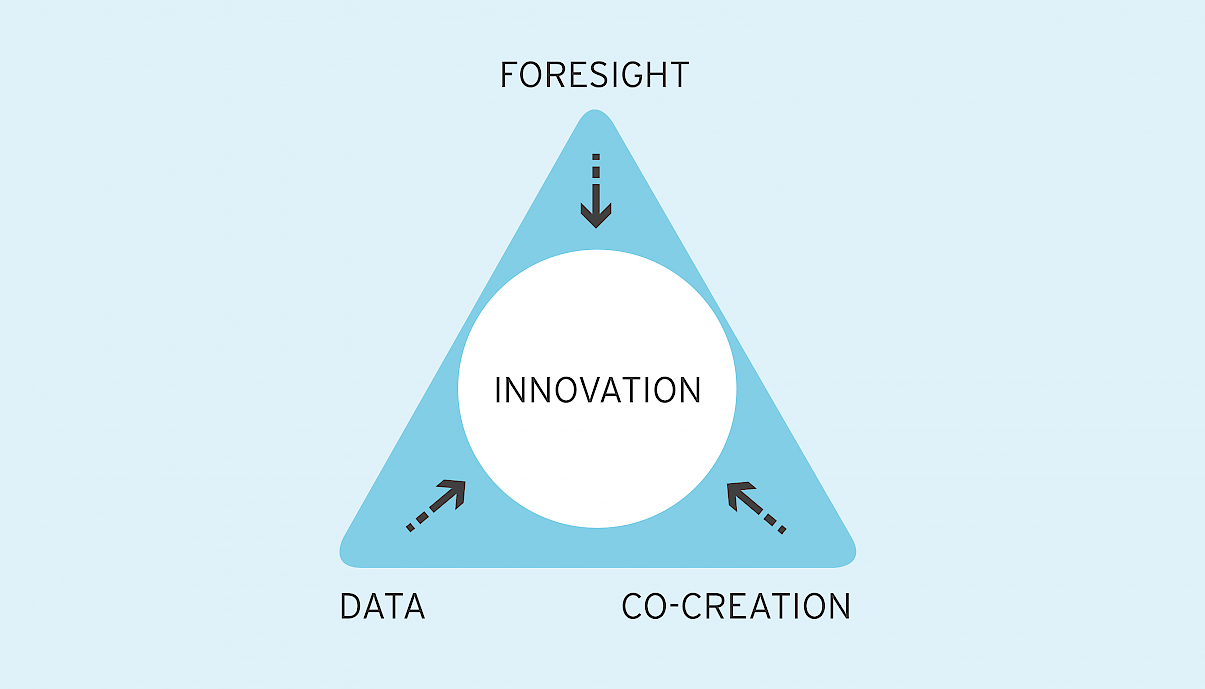 So, what do I mean by this?
1. Foresight ensuring direction and altitude
Paradoxically, it seems that long-term thinking is of more increasing importance for companies' success the faster society transforms. For example, René Rohrbeck and Menes Etingue Kum showed in a newly published article that shareholders' value grows three times faster in companies that systematically integrate foresight into their business processes compared to the average company.
Take it a step further and it becomes even more apparent. For example, if you want to understand the long-term and potentially disruptive consequences of an exponential technology development, regardless of it being computational capacity or price of solar panels, foresight thinking is required.
In many ways, the same applies to strategic uncertainty. If we do not fully consider the consequences of the most central and relevant contextual scenarios that can affect our organization, there is no chance of preparing for them. In such an event, we are unable to parry any undesirable developments or take advantage of new opportunities.
From an innovation perspective, this is obvious. Without deep insight into what the future holds it is impossible to be the first to develop the services and business models that will become future blockbusters. The future is in the hands of those who prepare for it.
A clear strategy and process for integrating megatrends and scenario analysis into strategy, innovation, and business planning ensures that our innovation activities focus on the correct areas and have sufficient innovation originality. Failure to do so results in idling; meaningless action resulting in no movement in any direction. However, there is a high risk that the consequences are much worse than merely idling.
2. Data as DNA drives innovation and new business models
Japanese Softbank's founder Masayoshi Son has scraped together SEK 900 billion to his technology fund, Vision Fund. That is four times greater than any venture capital firm has ever generated for a single fund. At first glance, the portfolio appears to be a mixed bag of different companies – from office hotels to e-commerce platforms and Uber. But from Son's perspective they all share a common profile: they work with data and AI.
Data and AI are the engines of the digital transformation that most industries are currently undergoing. It is no surprise then that technology startups are consistently identified as the largest threat for existing business models, industry logic, and market players. In a study conducted by Kairos Future and Tieto two years ago, half of all executives in Nordic companies specifically labeled technology startups as the most important risk factor.
Most companies sit on an enormous amount of data – from products and business transactions to customer behavior. However, this data is often poorly structured, inaccessible, and underutilized. Even if the majority of large companies have designated AI and analytics their top priorities and appointed a CDO – chief data officer – few have a clear-cut strategy for managing business level data. Even more lack a data driven culture, where data analysis is made available to the entire organization instead of isolating it in the analysis department.
The difference between established companies and startups is that startups have a data driven culture from the very start. This distinction may be why up to 80% of top executives are worried that new entrants will disrupt the market and take over their business, according to NewVantage Partner's annual global survey. It is therefore necessary for established players to begin the journey towards a data driven culture.
3. Co-creation for idea volume, width, and engagement
At the beginning of the 21stcentury it became popular to discuss open innovation. The meaning varied, but in essence it was about opening up closed R&D departments and engaging others in innovation efforts, primarily business partners but also employees, customers, research communities, and external partners and independent innovators.
Open innovation is an obvious answer in a world where the rate of change is increasing, specialization is on the rise, and the weight of building relationships with customers and partners is growing. It is simply impossible to have everything "in-house". Simultaneously, companies themselves are increasingly becoming components of major ecosystems where success lies in their ability to interact with other market players.
Today, most business executives seem to embrace the idea of open innovation, not least the fact that the whole organization should participate in innovation efforts. At the same time, the separation between idea and reality is quite large. I denominated this separation "The Innovation Gap" a few years ago in a report based on interviews with hundreds of Swedish business leaders.
But an open approach makes a difference. Companies with open, systematic processes generate 3.8 times as many new innovations per unit of time than companies lacking any systematic innovation processes at all and 50% more than companies with a traditional but systematic process.
As a result, a strategy for co-creation and open approach must be a central component in every company and organization with the ambition to remain on the playing field in five, ten, and fifteen years.
The questions that every business leader must ask themselves are:
Do we have a strategy, process, and culture for ensuring:
that the more long-term future perspective receives an adequate place in strategy and innovation work?
that we can complete the journey towards a truly data driven organization/business and culture?
that we utilize our own ecosystem of employees, partners, and customers in the innovation work?
If the answer to any of these questions is no then it is about time to roll up your sleeves. And if we at Kairos Future can help – let us know!