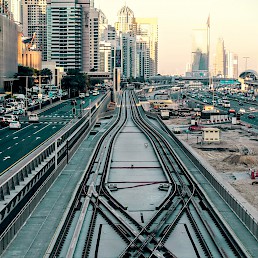 Lectures & Talks on Request
Personal transportation in the future
Things are afoot in the field of personal transportation. How will things look in 2025? What about 2040?
Personal transportation is a very broad category, and its future development depends on trends all over the world, such as total volume of local, national and international travel. At the moment, "more of everything" seems to be a good summary – regardless if we're looking at a ten or twenty-five year horizon. That means plenty of challenges sustainability-wise, and plenty of hope jobs-wise.
Exciting technologies are in the pipeline, like automonous vehicles or the super fast "tube-train" Hyperloop. Both of them have the potential to turn transportation upside down by 2040. New sustainable fuels are also important, with biofuels being the most talked-about. Progress is fast, making it imperative to avoid investing in infrastructure that might be obsolete from the start. Considering how long-term infrastructure planning needs to be, flexibity and international cooperation are essential.
Breakthroughs in artificial intelligence and automation will have consequences for employment. New kinds of jobs will pop up in transportation and related industries, and more and more people will work with advanced traffic management, vehicle systems programming and communication, security etc. Simpler jobs, however, are at risk.
All over the world people are moving to cities and large urbanized regions, and this fact affects the future development paths of transportation systems. Even though communications technology makes it easier to collaborate over distances, a desire for creative meeting places and intellectual stimulation makes talent swarm to large cities. In the future, status as a communications hub will be even more important, regionally, nationally and globally.
This lecture can be tailored to the customer's specific needs and wants. It touches on what trends are the most important for the development of the transportation industries in the near future. Hand-picked examples illustrate the most important current trends and the companies and movements that capitalize on them, in order to inspire you to take the next step for yourself and your organization.
Contact us directly for more information about this lecture.
For more info, contact

Helena Mella
Director Academy