Counsulting Area
Future Capital Analysis
Create a future-driven organization. Assess your company's culture, processes and posture before it's too late
Competitive advantage is not only based on excellent products and perfect timing. Organizational capabilities matter too. They matter a lot.
Success in today's turbulent business world is driven – perhaps more than ever before – by culture, posture and – not to forget – processes. Companies with a systematic way to scan the horizon and means to turn insights into new products, services and processes perform significantly better than those who lack them. This means that organizations need to be future-driven, aligned with future expectations and demands and able to spot signs and turn them into profitable opportunities.
For over 10 years we've been researching the organizational performance drivers in today's turbulent business landscape and transformed the results into an assessment tool aimed to assist clients in spotting their most important improvement areas. We call the instrument Future Capital Analysis (FCA).
FCA gives you an indicator of how well prepared your company is to meet the future. It measures whether the organizational culture, processes and posture supports constant innovation and transformation as well as supports cost-efficient production of high quality products and services.
FCA can be used as an employee survey or a more limited management survey and is normally a starting point for more extensive business transformation, covering all or parts of organization, processes, vision, culture and leadership. The results are integrated in the Future Capability Strategy/Portfolio.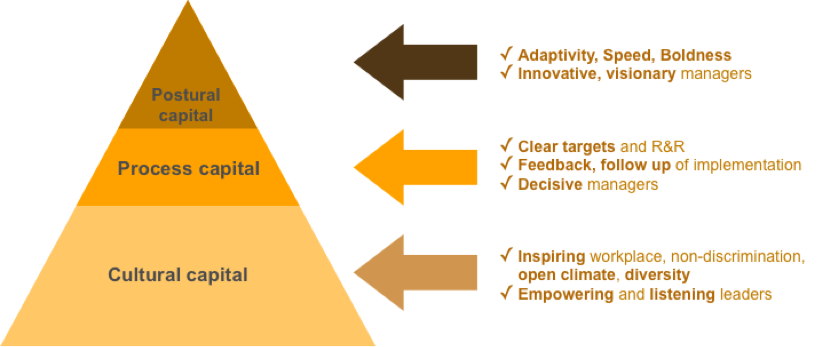 The three layers of organizational competitive advantage. Lindgren, 21st Century Management.