Report
The Danish Election From a Blogosphere Perspective
A report on the Danish Election 2011
Pssst, log in to your Kairos Future Friends account first!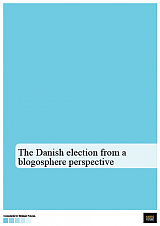 It has been said that winning the social media game is critical to success in modern day elections. True or not, social media is rapidly becoming a central part of modern society and people's life, and so also of politics.
With the election in Denmark on September 15 2011 in mind, Kairos Future started tracking the political discussion among active bloggers in Denmark. 1,2 million blog-posts from 2010 up until the present date have been analyzed in order to find the key topics discussed and how the key personalities and strongest opponents in the election, Helle Thorning-Schmidt and Lars Løkke Rasmussen, have been portrayed in the blogosphere.
This report presents key results from the study. Also, you can read the pressrelease here.
Free of charge for Kairos Future Friends
Free of charge for Kairos Future Club
For purchase