Report
From China to the U.S. and back again
Pssst, log in to your Kairos Future Friends account first!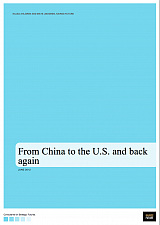 China's race up the knowledge and innovation ladder means more than a return to the ancient Chinese appreciation of knowledge and education. It opens a whole new arena of possibilities at home for the numerous students that have left the country for higher education abroad. It also means that China's chase for talents and ideas is on.
We have interviewed Chinese researchers, professors, and students at some of America's top ranking academic institutions to find patterns in the flows of knowledge between China and U.S. Did we find any? We sure did.
Published: 2012
Free of charge for Kairos Future Friends
Free of charge for Kairos Future Club
For purchase