Report
TRIM – From Future Faker to Future Maker
Trend and Idea Management
Pssst, log in to your Kairos Future Friends account first!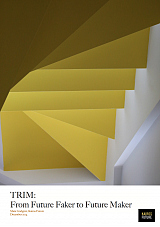 We all want to be winners, don't we? Or at least not losers. But how do you avoid being beaten and eaten? How do you become the "trouble maker" of your industry, the one that changes the name of the game, the one that everyone else envies? How do you turn from future faker to future maker?
Drawing on 25 years of experience in the field of future, strategy and strategic change we will outline a few keys and provide you with a useful ten-step guide on how to get to, or stay on, top. In short, the advice is: get your- self a future-navigation board, a portal where you can summarize and track long-term trends, strategic initiatives and innovation areas, as well as the constant flow of information about short-term trends and events. Find out more in the article.
Published: 2014
Free of charge for Kairos Future Friends
Free of charge for Kairos Future Club
For purchase