Case: 
Foresight-driven strategy in South American region Atlántico
The Department of Atlántico has a strategic and unique position in northern Colombia. Its capital Barranquilla is the seaport to Colombia, as it sits on the Magdalena River outlet facing the Caribbean Basin and the Atlantic Ocean. It also has important industries, for example in agribusiness. As for any region, Atlántico is subject to tough competition and thus needs to develop its capabilities.
The government of Atlántico commissioned Kairos Future to facilitate a strategic foresight process for the region, consisting of two parts. First a scenario process, then the development of a strategic science research, technology, and innovation plan. The goal was to create a Smart territory.
The project and its process were based on the TAIDA model (Tracking, Analyzing, Imaging, Deciding, Acting), developed by Kairos Future. Due to the Covid-19 pandemic, we developed an online process including remote meetings and workshops where 50 or more invited participants worked in breakout rooms to deliver knowledge on future and development. CESI, Fundación Centro de Excelencia en Sistemas de Innovación, in Baranquilla, Atlántico, Colombia, was deeply involved throughout the process.
"Everyone is so happy with the work and especially the benchmarks have been fantastic. Kairos Future brings prestige and credibility!"

Jose Polo, CEO, CESI
The process is briefly described below.
The Foresight and Strategy Process
Four scenarios were developed, based on a traditional 2x2 scenario matrix. The process involved a workshop with some 40 invited participants, engaging in collaborative exercises, connected with Zoom and using Mural. In the workshop we gathered information on trends and uncertainties, which was complemented by interviews and traditional desk research, leading to a comprehensive contextual environment analysis, including trends and uncertainties.
The four scenarios were based on international market development and the governance of agribusiness ecosystems.
Figure 1. Four scenarios for the state of agribusiness in Atlántico 2035
For each scenario we explored the consequences for agribusiness in general, and also specifically for six strategic areas: transformation of products from the region; water resources, agrotech, agromarkets, agroparks, and nutraceuticals.
A set of strategies that would benefit Atlántico's agribusiness were crafted into an Research Development and Innovation agenda. All in all, the agenda gives a broad overview of the needed actions and plans that need to be taken for the next 5, 10 and 15 years, in order to make agribusiness a strong part of and driver for prosperity in the department towards 2035.
Regional Vision and Competitiveness Plan
A region, as well as any enterprise, needs to be competitive. The region, as a territory and an administrative organization, needs to attract people and business. The region also needs to tend to its inhabitants, the people and enterprises that act within the system.
In order to bring all forces together it is essential to understand the desired direction of the region's development. This direction is formulated as a vision for 2035:
In 2035 the Departamento del Atlántico is a smart, competitive, and sustainable territory, thanks to innovation as a development engine, becoming an interconnected smart hub that provides its population with a high quality of life, ensuring the attraction, training and retention of the creative class and smart investments.
But how competitive is Atlántico today?
We analyzed the competitive position of Atlántico in a comparison with eleven international regions or cities. The analysis was conducted by AI-based tool Dcipher Analytics, researching into six dimensions, comprising the "smart Atlántico". The analysis grants major insights on what Atlántico can do in order to improve its competitiveness.
Based on the analysis we have formulated six main goals for the smart Atlántico, one for each dimension: Smart environment; Smart economy; Smart citizenship; Smart life; Smart governance; and Smart mobility. Each goal consists of a set of three to four subgoals with corresponding strategies and KPI:s. The goals and subsequent strategies are formulated as a competitiveness plan for Atlántico towards 2035.
Strategic Science, Technology, and Innovation Plan
The final leg of the journey was to develop a strategic science, technology, and innovation plan – for the Departamento del Atlántico towards 2035. This plan was informed by a broad, international investigation of best practice within scientific research, technology, and innovation, as well as the vision describing the future ambitions for the department.
In an international benchmark study, we analysed successful factors and initiatives for developing the science, technology and innovation areas for a region. Using this analysis, we formulated overarching goals, subgoals, strategies, and KPIs for the six dimensions of a smart territory, as defined by the Departamento del Atlántico.
Again, the benchmark was conducted by Dcipher Analytics as an AI-supported analysis in six dimensions, compromising the "smart Atlántico". In this study we explored best practices of urban innovation, with specific examples from 13 focus cities as a valuable input and a toolbox for Atlántico to strengthen its Science, Technology, and Innovation system.
Outcomes
Four reports were delivered. They are valuable documentation of results, to be used and reused the coming years.

Figure 2. Four reports: Scenarios, RDI Agenda for agribusiness, Competitiveness plan, and Strategic plan for science, technology, and innovation.
The scenarios will be used continuously for strategic planning and evaluation. The RDI agenda sets the agenda for research, development, and innovation in agribusiness. The competitiveness plan describes strategies for sharpening the competitive edge of Atlántico. And, finally, the Strategic plan for science, technology, and innovation, formulates strategies for these three areas.
While the reports in themselves are important outcomes, the process itself is highly beneficial and valuable.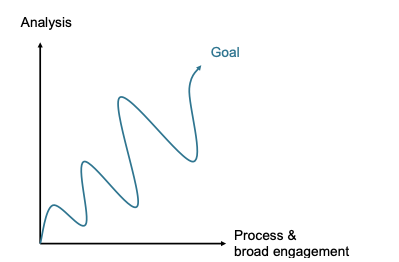 Figure 3. Good results do not come along a straight line
Conclusions from this project
We see many benefits resulting from this project.
The introductory foresight process, with its trends and uncertainties, informed the whole process although its main purpose was to illuminate the specific future of agribusiness in Atlántico. But having a strong foundation of trends and scenarios gave us a robust understanding of the possible futures in general.

This project was complex, involving different parts of Atlántico society and business, engaging different stakeholders, and connecting different subprojects. In this case, it was a benefit to run all parts in sequence as opposed to as separate projects. We didn't need to start everything from the beginning at each sub-project and we could thus save time despite tight staffing and limited time budget. But a process like this can of course potentially be divided into several, distinct projects. Thereby each part may be made less complex and more targeted.

The two international benchmark studies – one for competitiveness and the other for science, technology and innovation – gave essential insights into the possibilities and strategies for Atlántico. Having this broad comparison and best practice analysis would have been very difficult within the budget and time frame given (April 2020 – March 2021), without the help of Dcipher Analytics, gathering vast amounts of data (partly from social media) and in organizing the unstructured scraped data.

The engagement with stakeholders and experts gives a broader and deeper understanding of the complex challenges ahead – but also a commonly accepted roadmap. The departmental government of Atlántico as well as governments in neighboring departments and local governments can use these results for their future planning and strategic decisions.

Finally, it is difficult to be prophet in your own country. By engaging Kairos Future in this project, it was possible for the government of Atlántico to gain an international process and non-biased results.
Publications
The results of the project have been published in Spanish in:
Plan de Competitividad Atlantico 2035 and
Plan Estrategico Departamental de CTeI Atlantico 2035
Please contact Heléne Olsson if you want to learn more about the project or future driven strategy and innovation in general.