Report
Global Youth 2013
6500 young voices, 11 countries, 1 survey
Pssst, log in to your Kairos Future Friends account first!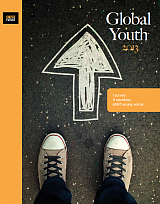 It is impossible to ignore the roars of the young around the world, as unemployment rates spin out of control and economical, environmental and political crises deepen.
According to the ILO, an estimated 73.4 million young people worldwide (12.6%) are expected to be out of work in 2013. In Kairos Future's survey on the Global Youth, 6500 young voices between 16-29 in eleven countries seem to agree on one point: in order to have a future we need a common goal. And today that goal is not to be seen anywhere. The discontent among young people around the world cannot be mistaken. In all surveyed countries except Sweden and Russia, the youth is convinced that most people in their generation will be worse off than their parents. A majority also states that society has become too individualistic, and that it is politics that is to blame.
Instead all their dreams and aspirations are focused on another arena – the personal one. The small, close collective: the family. And when it comes to family young people are anything but short-sighted.
Published: 2013
Free of charge for Kairos Future Friends
Free of charge for Kairos Future Club
For purchase