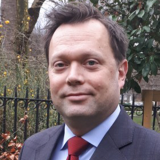 Patrik Kärrberg
Senior Consultant and Future Strategist
Patrik is part of our London team where he works with trend research and Kairos Future Academy.
During five years in Tokyo, Patrik learned Japanese, marketed Norwegian software to electronics giants and was the sales manager at a Japanese tech firm. Patrik works with organizations' digital change process, digital platforms and innovation.
Patrik holds a PhD in Management of Information Systems from the London School of Economics where he co-founded the LSE Network Economy Forum. Patrik is a civil engineer in Industrial Economics at LiTH and plays links golf when he's not out exploring London.