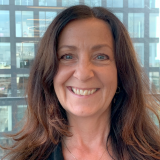 Lena Lundin
Office Coordinator
Lena works as an office coordinator, and it is usually her you first meet when you visit us at Kairos Future.

She is responsible for making the daily work in the office function well and ensures that the office surfaces are representative.

Lena has extensive work experience from the travel industry, which comes in handy to maintain the high level of service we care about for all visitors and employees.